Jul
20
Sat
2019
PADI Open Water Weekend Scuba Course July 2019

@ Dan's Dive Shop
Jul 20 @ 9:00 am – Jul 21 @ 2:00 pm
PADI Open Water Weekend Scuba Course July 2019
Learn to scuba dive this coming summer and explore the amazing dive sites in your own backyard with our PADI Open Water Weekend Scuba Course July 2019.  Get your PADI certification completed so you can start enjoying the greatest sport in the world.  
Students will complete all class and pool sessions for the PADI Open Water Weekend Scuba Course  Saturday 9am-9pm and Sunday 8:30am-2pm with a second weekend needed to complete your PADI Open Water Certification Dives the following weekend. Private checkout dates are also available at an additional cost.
Learn to scuba dive with one of North America's most respected, most experienced, most progressive and visionary dive shops.  At Dan's we teach you the right way to dive from day one of our PADI Open Water Weekend Scuba Course.  More knowledge and higher skills are just the start.
At Dan's we offer you a more thorough and modern approach to your scuba diving education. We believe in teaching you how to maximize your potential and see where the tides take you.
We pride ourselves on offering you a higher level of training aimed at taking you further through the life long adventure sport of scuba diving. 
DDS Divers are the most skilled and respected recreational and technical divers  in the water because they are taught to be more comfortable, utilize precision buoyancy, possess higher skill and techniques underwater, with more academic and team awareness.
Prerequisites?
Minimum age 12yrs old, must be able to swim non-stop 200 meters free-style or 300 meters with mask, fins, snorkel.  10 minute tread.
How can you enroll?
You complete the Open Water Diver Course classroom component on eLearn . We will have you complete all academic portions of the PADI Open Water Diver Course and videos at your own pace and will meet up for Classroom with your Instructor as we fill in many of the gaps left in traditional dive training with a more informative and beneficial dive training experience.
Upon successful completion of classroom and pool sessions, students will need to complete an Open Water Diving component usually held over a weekend.
Training Agency:
Additional Details:
Open Water Dives are required for Open Water certification and are included in your full course price and completed locally.
Scuba courses are available 12 months of the year.
Costs:
PADI Open Water Class/Pool Only $350+HST
Full PADI Open Water Certification Course Cost is only $500+HST ALL INCLUSIVE for the standard course with eLearning activation code and PADI Deluxe Multimedia Crewpak (digital dive tables, virtual log book with PADI Scuba Earth and more!). Includes class, pool, open water dives, full scuba equipment rental (no snorkeling gear), certification fees and more.
What gear will you need?
All students will need to purchase their own Mask, Strap Fins, Snorkel, Boots, however many of our students prefer to purchase the rest of their kit too. You'll want to buy the right gear, so please have a read through our DDS Student Diver PDF and learn more about the specific gear requirements and training differences we offer, as well as some incentives.
You don't need to purchase a weight belt and weights, at DDS we don't believe in over-weighting our students. Weight belts are an outdated piece of gear that has not been used by us in training since the late 1990's.Our divers are taught to use little to no weight.
Financing is available: Finance your course, snorkeling gear and even your scuba equipment package at a very reasonable rate. Ask staff for details and learn diving in the best equipment you can…..your own personal dive gear, or ours.
DDS will include all scuba equipment for the course, however, you will enjoy your diving experience much more in your own personal dive equipment.
Our Cancellation Policy: If less than 14 days notice is given there is a $100 fee to cancel or reschedule. No shows forfeit all course fees. Redeemed eLearning is non-refundable.
Dive Newfoundland Bell Island Shipwrecks, Humpbacks and more

@ Ocean Quest Adventures
Jul 20 @ 3:00 pm – Jul 27 @ 3:00 pm
Dive Newfoundland Bell Island Shipwrecks, Humpback Whales, Bell Island Mine and more!
Join us as we dive Newfoundland and the majestic Bell Island Shipwrecks, historic Bell Island Mine, Snorkel with migrant Humpback Whales and tour this beautiful area and as many of the beautiful topside attractions and Eastern Canadian landscape we can find as you travel in style with Dan's Dive Shop and our friends at Ocean Quest.
Newfoundland is home to some impressive WWII shipwrecks that were sank by German U-Boat's.  These time capsules feature some beautiful and colourful soft corals, while many of the original artifacts still are found throughout the wrecks for all to see while simultaneously boasting a lot of great history.  Take advantage while you're there and lets get you up close and personal with Humpback Whales, Dolphins and more!  
DDS was so impressed with Newfoundland that we have booked it again!  Join us for a phenomenal week of diving with our friends at Ocean Quest Adventures as we dive some of the world's best preserved wrecks. With five* days of diving, you'll discover the secrets of all four of the famous Bell Island shipwrecks. Intact and upright on the bottom, over 400 ft long, and in virtually the same conditions as the day they were sunk by German U-boats in 1942, these wrecks are sure to have you coming back again.
Along with exploring the shipwrecks, this tour features seven nights' accommodations, five days of diving (two dives a day), and includes tanks (2 x 80 cuft alum), air, on-boat lunches on dive days, and complimentary airport shuttle service. However, nitrox and equipment rentals are extra.
*There is a 5th day of humpback whale activities and hiking available instead of diving.  Upgrades available.
We may even have the option of exploring the Bell Island Mine again this year!  Must be fully certified NAUI Cave 2 Level Divers.  Check out the photos in the gallery from this epic dive trip!
We can honestly say this experience has been one of the best diving trips of our lives.  There's a reason we keep going back and it's partly because Rick and his staff continue to out do what they've done each previous year. When you dive Newfoundland you realize that this place is special and the diving is some of the best in the world.  It's worth every penny of the cost and then some.
Opportunities to dive Empress of Ireland on the way home are available this year as well for those driving through Quebec on the way home.
2019 Rates
Recreational package: includes 2 Single AL80s, weights, air. $2299+NL tax
Nitrox Package $2499 Steel or Aluminum tanks and Nitrox.
Tech package: includes doubles or rebreather facilities, stage bottle, nitrox. $2699+NL tax.
Mine Quest Package: Includes doubles or rebreather supplies, stage bottle, nitrox, plus 3 dives in the Bell Island Mine and a night on the island $2899+NL Tax.
Ocean Quest is fully equipped with steel doubles, rebreather supplies, nitrox, oxygen and more.  Fly in or drive in, you won't be disappointed.
Prices do not include flight, meals, spa facilities.
To book your trip please contact our travel partner:
Fawn Messer, Travel Consultant

info@dansdiveshop.ca 
phone: 905-328-7851, fax: 905-984-2167
Flight Centre Associates
Head Office: 1 Dundas St W, Suite 200, Rm M, Toronto, ON M5G 1Z3
1-416-368-4221 TICO#50016384
May
2
Sat
2020
Dive Bikini Atoll

@ Bikini Atoll
May 2 @ 9:00 am – May 13 @ 6:45 pm
Dive Bikini Atoll with DDS in 2020!
Have you ever wanted to dive the best shipwrecks in the world?  Dive Bikini Atoll with DDS in 2020 and you'll see some of them!  2 years from the posting of this event we embarked on a magical trip to Truk Lagoon and had the dream trip, only to ask ourselves how could we top Truk?  Well we instantly thought Bikini Atoll, so after missing the chance to book it for 2019, we jumped at a chance to do 2020 and you should too!
The trip will run from May 2 – 13, 2020.
Cost is only $7245US.  A $500US deposit is required to hold your spot.
Payment schedule:
November 2017 $600US
May 2018 $600US
November 2018 $1500US
April 2019 $1500US
November 2019 $1500US
Final Balance $1545US due date TBD
Please Note a 3% credit card fee will be charged on any credit card transaction. 
There is a $500US port tax due day of departure cash.  
Fills, rentals, sorb are not included in cost of the trip. 
Book Early and Book Now for this amazing trip!  If you've missed the first deposit you can add it to the next deposit and get on schedule with payment.
Some divers have expressed interest in a stop over in Truk Lagoon.  We are able to make arrangements for this opportunity happily as we are very excited to dive Truk Lagoon again as well and revisit the remnants of Operation Halestone and the Japanese fleet.
We highly recommend Divers Alert Network Travel Insurance and Trip Cancellation Insurance as all spaces are non-refundable.
Bikini Atoll is located in the Marshall Islands in Micronesia.  This area is home to some of the biggest and best shipwrecks you'll ever see.  Pristine ships that were retired from war service and were sunk during atomic bomb testing in 1946 as part of  Operation Crossroads where they were evaluating the effectiveness of these weapons against battle ships.
Below is a list of ships courtesy of Wikipedia: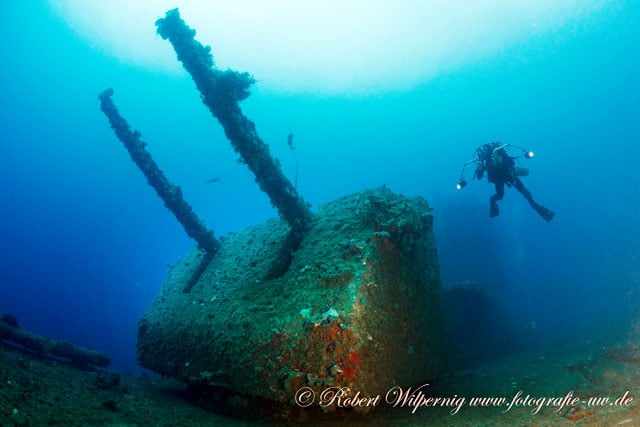 After the Second World War, the USA collected a 'mock' naval fleet for the purpose of testing the impact of different atomic bombs on a large fleet. These nuclear bomb tests were performed in several remote locations in the South Pacific Ocean, known as the Pacific Proving Grounds. Bikini Atoll was appointed one of the designated testing areas within the Marshall Islands. Between 1946 and 1958, not less than 23 atomic bombs were tested at Bikini Atoll, which resulted in a unique selection of shipwrecks from the US, Germany and Japan consisting of war battleships, cruisers, and an aircraft carrier.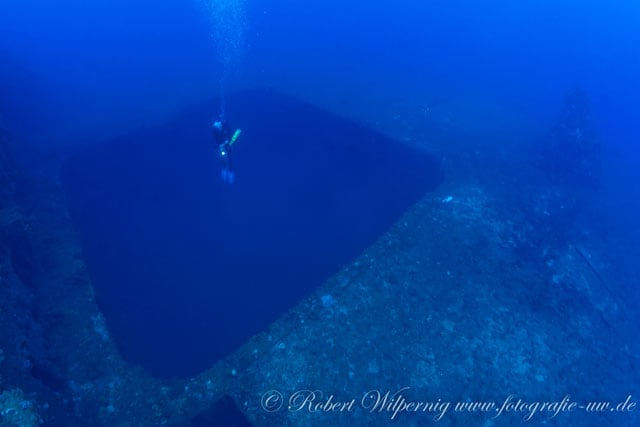 More than 60 years later, the shipwrecks remain equally as impressive while they have become home to many kinds of corals and fish species. As a result, Bikini Atoll has become the ultimate wreck diving for the true fans! This exclusive and unparalleled diving destination is undisputedly ranked first on any serious wreck & technical divers' bucket list. This is well justified; nowhere else on earth you will be able to dive into such a unique collection of historic battleships, cruisers, as well as the world famous USS Saratoga aircraft carrier with its 270m (888ft.) flight deck. For this reason, Bikini Atoll was declared the first UNESCO World Heritage site for the Marshall Islands archipelago in 2010.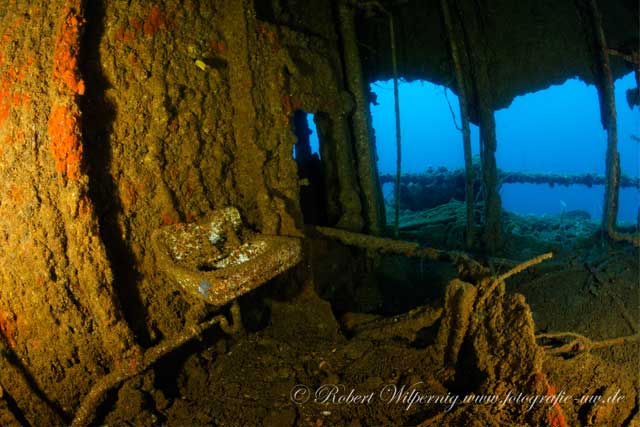 Exclusivity guaranteed when you Dive Bikini Atoll the charter is cut to a maximum of 11 guests over 10 or 11 nights per cruise. The Truk Master will offer on those itineraries a choice of 6 a/c en-suite single, double or twin bed cabins on the lower deck and main deck. The yacht has a dedicated camera set-up and charging station with plenty of additional storage for all your extra lenses, strobes and batteries.
Communal relaxation areas are split between the middle and upper decks comprising of a spacious indoor dining area, lounge bar with comfortable bench seating and plasma screen, shaded outdoor seating area and a sun deck.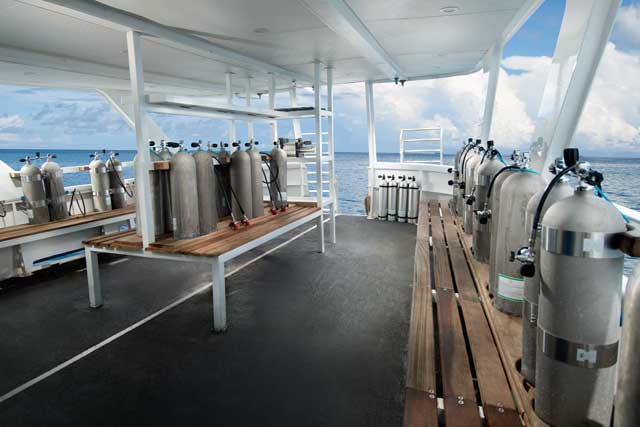 Tech divers will find on board all the latest technical diving facilities and equipment to explore these ultimate wrecks at leisure when you dive Bikini Atoll with DDS:
Deco bar for stage/deco stops under M/V Truk Master
Booster pump for gas blending & rebreather tank fills
Manifold twin-tanks (DIN & Intl. available)
MKVI filters (upon request)
Sofnolime for rebreathers – Dependent on Use
Rebreather tanks
12l Deco stage tanks (band, sling & clips) – 40cuft/80cuft stage/bailout cylinders
Oxygen
Helium
Most wrecks in Bikini Atoll are located beyond recreational diving maximum depths; therefore technical diving skills and wreck experience are required, which is perfect, as DDS offers the most progressive, modern, comprehensive and challenging technical diving courses in the business.
For questions and booking, please contact our travel partner:
Fly and Sea Dive Adventures
8528 123 St.
Surrey, BC
1-888-995-3483, diving@flyandsea.com