Jul
4
Thu
2019
NAUI Intro to Tech Course July 2019

@ Dan's Dive Shop
NAUI Intro to Tech Course July 2019
The Naui Intro to Tech Course July 2019 is a game changer, changing the way recreational divers think about diving and offers the recreational diver the ultimate challenge as well as a window into their diving future, as it begins unlocking doors to the right skills, the right information, the right techniques, the right knowledge and the right equipment configuration.
Our NAUI Intro To Tech course presents new challenges for recreational divers, while taking a  fundamental diving approach to buoyancy, trim, team diving, underwater and above land problem solving that requires sound solution thinking and finesse, while refining and mastering the rudimentary skills that most divers tend to lack at the recreational diving level.
Many divers consider this course to be the turning point in their diving career because it opens divers up to the more exciting challenges ahead like Technical Diving, Wreck Penetration, Trimix, Cave Diving, Technical Sidemount, Ice Diving and Expedition Diving for future dive explorers.
Our NAUI Intro to Tech Course is available to recreational divers in a single tank with H-valve configuration or for those divers wishing to move into Tech Diving with back mounted doubles.
Our program will help you develop better buoyancy, fin techniques, propulsion methods, all the while Improving Trim, Breaking BAD Habits, Diver Communication, Problem Solving abilities, Risk Management, Dive team Planning, Dive Equipment Streamlining, Horizontal Out of air sharing and more in backmounted doubles.
This course is available privately for individuals or groups locally or wherever you are located.
We are happy to offer this course locally or anywhere else in Canada.  DDS is a mobile shop with the ability to teach anywhere you need us.
This Program has become one of the scuba worlds Most Popular Courses for good reason. We feel Intro to Tech is the BEST Diving course on the market today, designed to challenge the diver with new skills, techniques and awareness. Step up to the plate and challenge yourself to be the best diver you can be.
Pre-requisites
For divers of all skill levels
Must be 18 or Older
Open Water Diver or Equivilant
Minimum of 25 logged dives
5 dives on EANx
400 Meter Swim
50′ Underwater Breathold with Gears
Training Agency
Additional Information:
Our Naui Intro to Tech program offers the candidate a Fundamental approach to refining and mastering the rudimentary skills such as Buoyancy, Fin Technique/Propulsion Methods, Improving Diver Trim, Breaking BAD Habits, Diver Communication, Problem Solving abilities, Risk Management, Dive team Planning and Team Communications, Dive Equipment Streamlining, Rescue Techniques, Horizontal Ascents/Descents, Valve Manipulation drills, Air Sharing and more.
The Naui Intro to Tech program also offers divers a look deeper into diving science, physics, physiology and decompression theory using zero calculation tables, the 120 Rule and NAUI RGBM decompression model which is the most validated decompression algorithm in recreational and technical scuba diving.
Divers will be introduced to a safer, more versatile and more user friendly/beneficial equipment configuration (NTEC) allowing divers take advantage of the benefits of diving with a long hose (5-7ft), a streamlined back flotation buoyancy system which is the heart of the system, a reel and lift bag for mid-water ascents and drifting decompression stops, proper light requirements and more.
All gear is designed to be streamlined using a Hogarthian approach revolving around the KISS principal to give divers the freedom to improve their skills. Keep It Simple and Streamlined.
This course is conducted only over a period of 4 days making it a rather intensive program. Students must understand that these skills might not be able to be mastered without practice outside of the Naui Intro to Tech program.
All training dives are filmed so divers can see themselves in the water and see the learning curve from pool to open water training sessions. Dives are conducted in shallow water which affords us maximum bottom time for skill development.
This course is intended for divers of any skill level from Open Water Diver to Open Water Instructor and will benefit all who take it, especially divers wishing to progress into more serious aspects of diving requiring this type of discipline, comfort and finesse in the water.
Graduates of this program will also be able to enroll in more advanced programs with the skills and confidence to succeed in those programs including technical diving courses like Technical Decompression Diver, Helitrox, Trimix, not to mention it goes hand in hand with Cavern, Wreck Penetration and our Cave diving courses, which will build on the foundation started with Intro to Tech.
We believe NAUI offers the best scuba diving course progressions offering a little bit more than your other agencies with regards to more theory, more diving and higher standards, while our instructional staff are the countries leading technical diving educators and active explorers.
If  you want a challenging course that will test your skills, knowledge and abilities, NAUI Intro to Tech is the course for you.
Cost: $500+HST (based on a minimum of 3 students) includes NAUI NTEC Workshop, NAUI Intro to Tech CD, Intro to Tech Student Skills CD, Certification fees.
FREE Divers Alert Network Student Member Insurance
Intro to Tech is also available privately for the diver who has limited availability for time. Cost is $650+HST local and includes the above materials. Private instruction out of town may bear other additional expenses for travel, meals, fills, etc.
Students who cannot commit to 4 intensive days can also complete the program over 2 full weekends or 4 full midweek days. There is no additional cost for the midweek Intro, however the 2 weekend format would bare an additional $100 charge per student.
If you're interested in this program a CD is available with a wealth of information.  Start changing your diving habits for the better today with Dan's Dive Shop and our exceptional progressive dive training.
If you can't make this class in Niagara, we can present this program to you anywhere else you may be in Canada or other graphic regions.  
Feb
9
Sun
2020
Florida Springs Trip 2020

@ Luraville
Feb 9 @ 6:00 pm – Feb 15 @ 10:30 am
Florida Springs Trip 2019
Florida Springs Trip 2019 Week 1 is an intensive training week offering expert level training in DPV, Intro to Tech and Cavern Training with Cave & Technical Diving Instructor/Explorer Matt Mandziuk.  If you want to be the best diver possible, this trip is life changing and will improve every aspect of your diving. 
Don't miss out on our SIGNATURE TRAINING TRIP in Florida's beautiful aquifer in the heart of cave country. Spend an exciting week with us earning your Intro to Tech and Cavern certifications. It's an intense but incredibly rewarding week filled with lots of diving in some of the most spectacular and unique dive spots in the world. 
Read  testimonials from past graduates in our Testimonials page and see just how monumental this trip is!
Participate in our NAUI Intro to Tech Class and see that this course is not just for tech divers – it is a foundational skills refinement  course that will dial up your control, problem solving and finesse as you dive in any situation. Our Cavern course will build on your Intro to tech skills dovetailing seamlessly into one another, while exposing you to a magic that few divers experience – the cavern zone of beautiful caves. 
And if you're looking for greater challenges, CHECK OUT OUR CAVE 1 AND CAVE 2 courses the following weeks. Call or email the shop for more details and make training with us in Florida next February the best decision of your diving adventures!
Lodging and food is only $550 US (based on a group of 6) Course package is only $650 for Intro to Tech and Cavern Diver Combination Courses.  Sign up today for the most progressive, high skills training experience of your dive career and challenge yourself today. 
For more course information check out our Cave & Technical diving courses section.
To book your accommodations please contact our travel partner:
Fawn Messer, Travel Consultant

info@dansdiveshop.ca 
phone: 905-328-7851, fax: 905-984-2167
Flight Centre Associates
Head Office: 1 Dundas St W, Suite 200, Rm M, Toronto, ON M5G 1Z3
1-416-368-4221 TICO#50016384
May
2
Sat
2020
Dive Bikini Atoll

@ Bikini Atoll
May 2 @ 9:00 am – May 13 @ 6:45 pm
Dive Bikini Atoll with DDS in 2020!
Have you ever wanted to dive the best shipwrecks in the world?  Dive Bikini Atoll with DDS in 2020 and you'll see some of them!  2 years from the posting of this event we embarked on a magical trip to Truk Lagoon and had the dream trip, only to ask ourselves how could we top Truk?  Well we instantly thought Bikini Atoll, so after missing the chance to book it for 2019, we jumped at a chance to do 2020 and you should too!
The trip will run from May 2 – 13, 2020.
Cost is only $7245US.  A $500US deposit is required to hold your spot.
Payment schedule:
November 2017 $600US
May 2018 $600US
November 2018 $1500US
April 2019 $1500US
November 2019 $1500US
Final Balance $1545US due date TBD
Please Note a 3% credit card fee will be charged on any credit card transaction. 
There is a $500US port tax due day of departure cash.  
Fills, rentals, sorb are not included in cost of the trip. 
Book Early and Book Now for this amazing trip!  If you've missed the first deposit you can add it to the next deposit and get on schedule with payment.
Some divers have expressed interest in a stop over in Truk Lagoon.  We are able to make arrangements for this opportunity happily as we are very excited to dive Truk Lagoon again as well and revisit the remnants of Operation Halestone and the Japanese fleet.
We highly recommend Divers Alert Network Travel Insurance and Trip Cancellation Insurance as all spaces are non-refundable.
Bikini Atoll is located in the Marshall Islands in Micronesia.  This area is home to some of the biggest and best shipwrecks you'll ever see.  Pristine ships that were retired from war service and were sunk during atomic bomb testing in 1946 as part of  Operation Crossroads where they were evaluating the effectiveness of these weapons against battle ships.
Below is a list of ships courtesy of Wikipedia: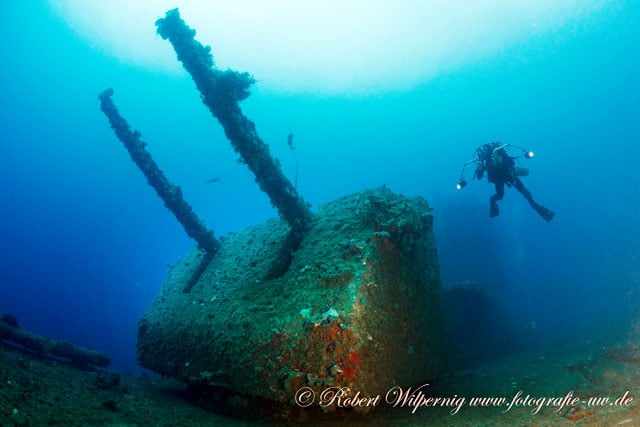 After the Second World War, the USA collected a 'mock' naval fleet for the purpose of testing the impact of different atomic bombs on a large fleet. These nuclear bomb tests were performed in several remote locations in the South Pacific Ocean, known as the Pacific Proving Grounds. Bikini Atoll was appointed one of the designated testing areas within the Marshall Islands. Between 1946 and 1958, not less than 23 atomic bombs were tested at Bikini Atoll, which resulted in a unique selection of shipwrecks from the US, Germany and Japan consisting of war battleships, cruisers, and an aircraft carrier.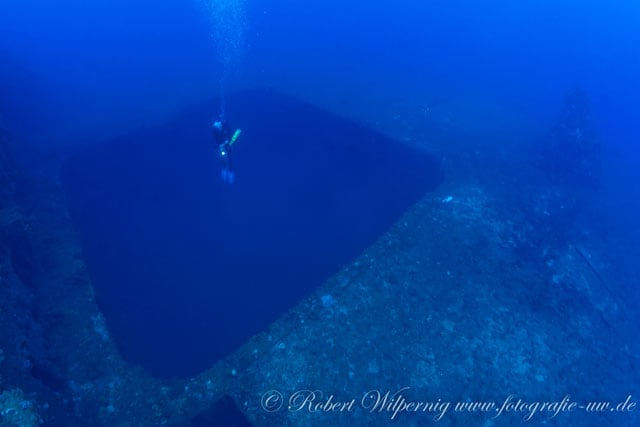 More than 60 years later, the shipwrecks remain equally as impressive while they have become home to many kinds of corals and fish species. As a result, Bikini Atoll has become the ultimate wreck diving for the true fans! This exclusive and unparalleled diving destination is undisputedly ranked first on any serious wreck & technical divers' bucket list. This is well justified; nowhere else on earth you will be able to dive into such a unique collection of historic battleships, cruisers, as well as the world famous USS Saratoga aircraft carrier with its 270m (888ft.) flight deck. For this reason, Bikini Atoll was declared the first UNESCO World Heritage site for the Marshall Islands archipelago in 2010.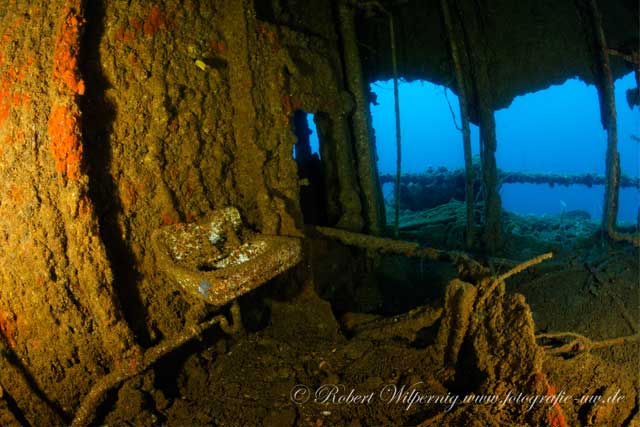 Exclusivity guaranteed when you Dive Bikini Atoll the charter is cut to a maximum of 11 guests over 10 or 11 nights per cruise. The Truk Master will offer on those itineraries a choice of 6 a/c en-suite single, double or twin bed cabins on the lower deck and main deck. The yacht has a dedicated camera set-up and charging station with plenty of additional storage for all your extra lenses, strobes and batteries.
Communal relaxation areas are split between the middle and upper decks comprising of a spacious indoor dining area, lounge bar with comfortable bench seating and plasma screen, shaded outdoor seating area and a sun deck.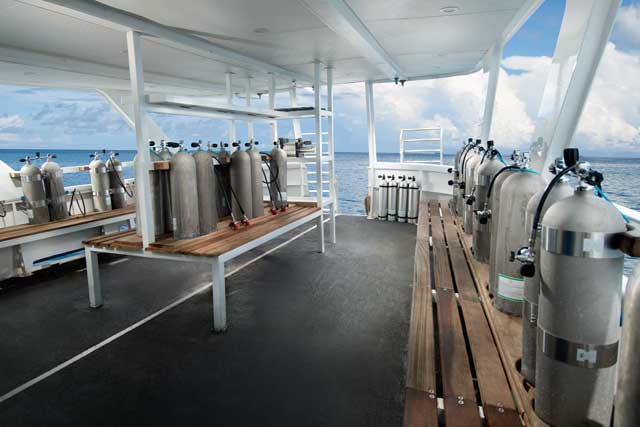 Tech divers will find on board all the latest technical diving facilities and equipment to explore these ultimate wrecks at leisure when you dive Bikini Atoll with DDS:
Deco bar for stage/deco stops under M/V Truk Master
Booster pump for gas blending & rebreather tank fills
Manifold twin-tanks (DIN & Intl. available)
MKVI filters (upon request)
Sofnolime for rebreathers – Dependent on Use
Rebreather tanks
12l Deco stage tanks (band, sling & clips) – 40cuft/80cuft stage/bailout cylinders
Oxygen
Helium
Most wrecks in Bikini Atoll are located beyond recreational diving maximum depths; therefore technical diving skills and wreck experience are required, which is perfect, as DDS offers the most progressive, modern, comprehensive and challenging technical diving courses in the business.
For questions and booking, please contact our travel partner:
Fly and Sea Dive Adventures
8528 123 St.
Surrey, BC
1-888-995-3483, diving@flyandsea.com